Introduce yourself!
Imagine your business on the 051info portal?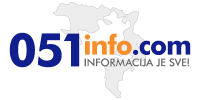 Are you wondering why internet presence matters?
It's because the internet is currently the safest way to conduct business and the fastest way to obtain new clients.
Our company has been operating successfully for 20 years, presenting thousands of new business objects and activities and bridging the gap between entrepreneurs and interested customers.
Thanks to excellent and precise search options, including categorization based on location, activity and various other criteria, our website visitors can easily and quickly access the services they need.
Every month, our portal is visited by hundreds of thousands of people from Serbia and beyond, coming from various backgrounds, with various interests and business needs and with the intention of purchasing something or paying for a service - perhaps many of them need you!
If you present your business at our portal, you will experience the results and benefits very quickly, get comments from viewers and more, whereas if you do not, nothing will change and the situation will remain the same.
Provide us with some basic information and we will be happy to contact you to work out the details.